The floor curls in on itself, forming dizzying squares that support velvet armchairs. The stage is empty, except for a baby grand piano that lacks a key, a D center – I mentally take notes while strumming.
Instead of walls, books. Many. Them you want.
Lined up, piled up, erect, bent over, there hover over the wandering heads a vast collections, art, psychology, classics, rare editions.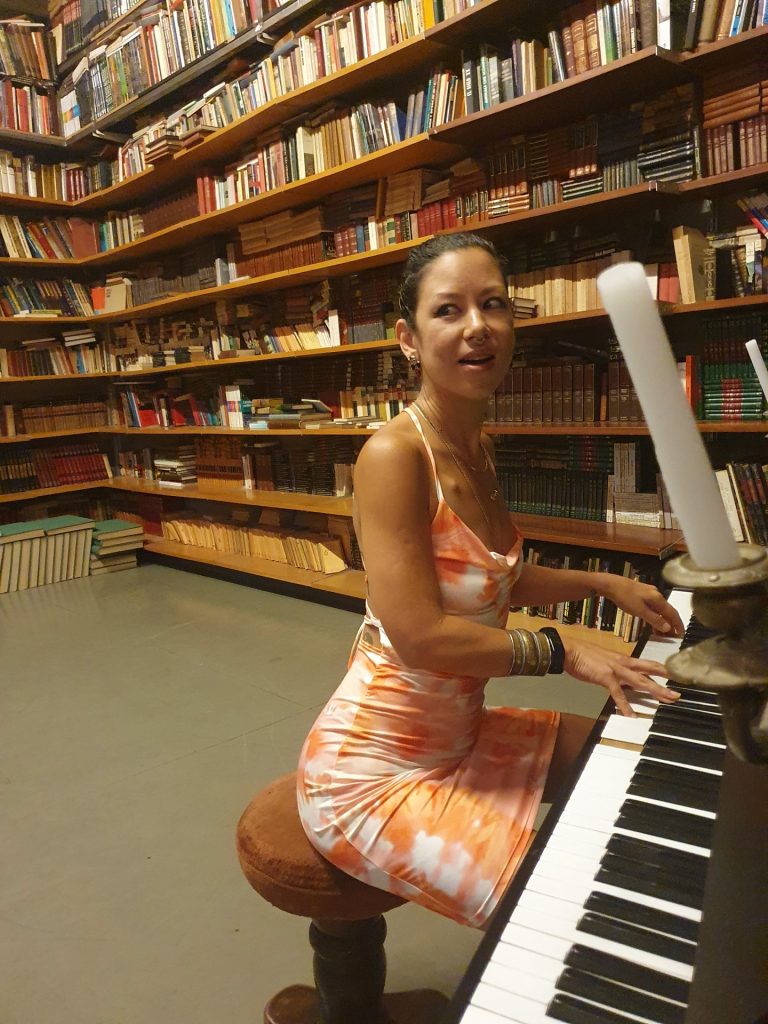 Nothing like a pianiño, a comic book and a for-kids version of (In My) Solitude (Susana Bragatto / Folhapress)
In another room, on a glass-topped table and Louis XV-style chairs, a fat chandelier illuminates an illustrated children's book, perhaps recently leafed through by little hands: Las pédillas de Winnie the Pooh (The Nightmares of Winnie the Pooh).
Next door, an industrial kitchen, modern and minimalist, surrounded by – you guessed it – more books. There, cooking classes and other gastronomic events take place.
Other shelves carry photos of bullfighters, bibelots, faded dedications, posters from another Spain, stories from other lives.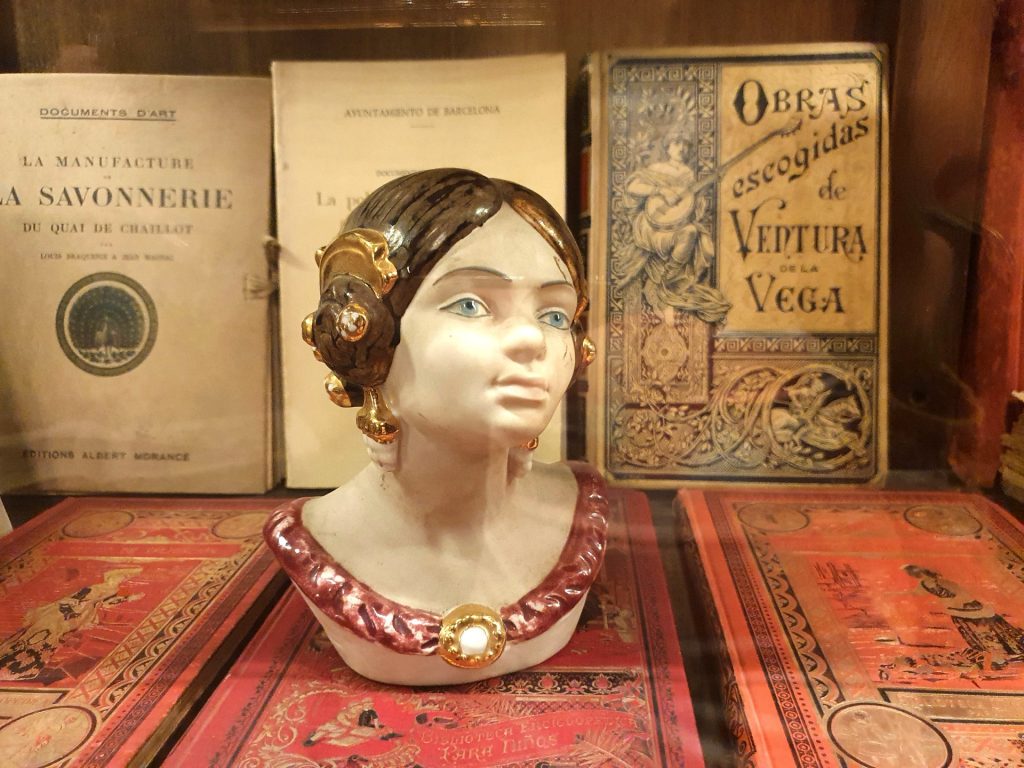 Relics and delicacies from the El Siglo bookstore, the biggest used bookstore in Spain (Susana Bragatto / Folhapress)
This is El Siglo (The Century), the biggest second-hand bookstore in Spain, a fabulous and complex world tucked away in a shed inside Mercantic, a famous market for antiques and loko second-hand items in the municipality of Sant Cugat, half an hour from Barcelona.
The bookstore has held this title since 2013, when it incorporated the 100,000 copies of another sebistic temple in Barcelona, ​​La Canuda, which operated since 1948 in the center near Plaza Catalunya and closed its doors to make way for a super fast fashion store in the that today abound there.
Today, El Siglo has around 150,000 books, magazines and documents spread over 800 square meters. It's a place to arrive, get lost for hours and emerge with some cheap booklet (or not) in hand.
I enter the main hall, where there is a bar and the hubbub of a discreet mass, on a sunny Sunday in late August. I'm thrilled.
Not just for the impressive abundance of volumes and crystal chandeliers, which give the place an epic-charming moth-lovers temple vault. But mostly because it's live music day.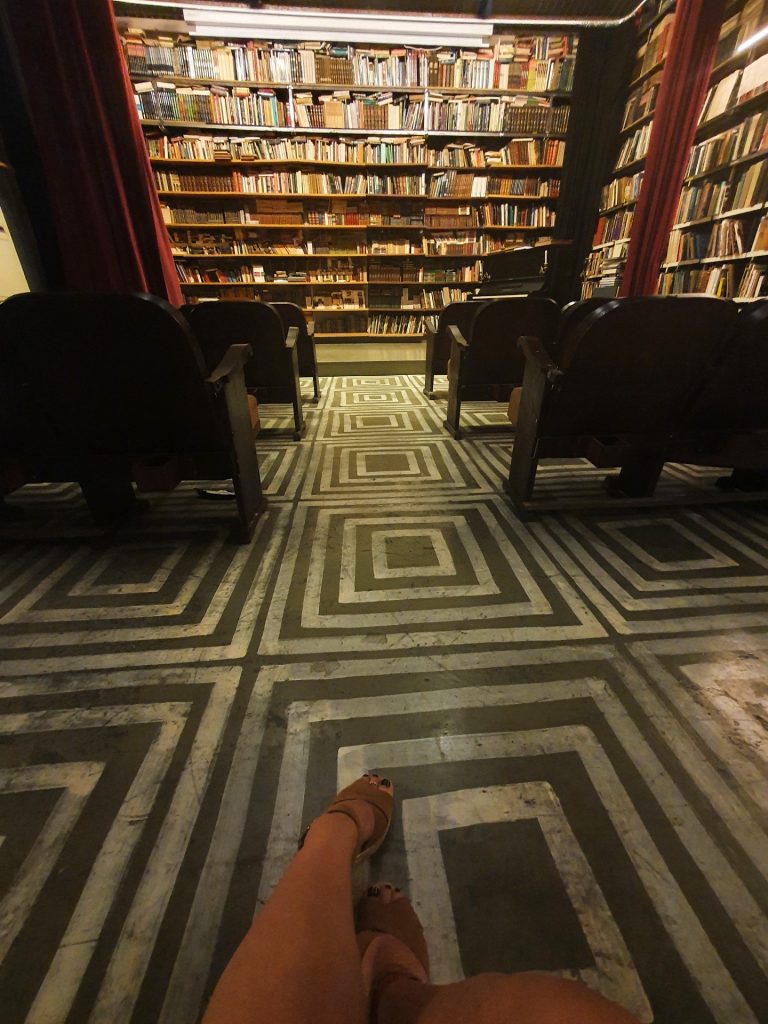 One of the stages inside the El Siglo bookstore, the biggest used bookstore in Spain (Susana Bragatto / Folhapress)
My first time in a long, long time.
The signs of a pandemic are still lurking here and there: we see masked people, alcohol gel and tables far apart. But, for the rest, the experience is gentle and sweet.
Live music has slowly returned in some places. Not much yet.
We found a little corner to sit, balancing vermouths and verdejo wines on our laps. In this main hall, on a stage bigger than the one mentioned above, a duo of acoustic bass and piano begins to produce the first notes of a jazz standard like those that we hum and don't remember where we know it.
Then the singer enters: a Catalan woman singing French chansons. Ne me quitte paaaaaaas, and we go swaying to the rhythm of this poetic plea, trying to forget for a moment that, despite 70.9% of the population being immunized after 8 months of vaccination campaign, we still have a few thousand new cases of Covid in the country daily; and pushing to the bottom of the intestines delgadus the alerts of those Specialized Epidemiologists, who have been telling us: beware that more can come, beware that the cold is coming, beware that the vaccine does not work that well with the new variants.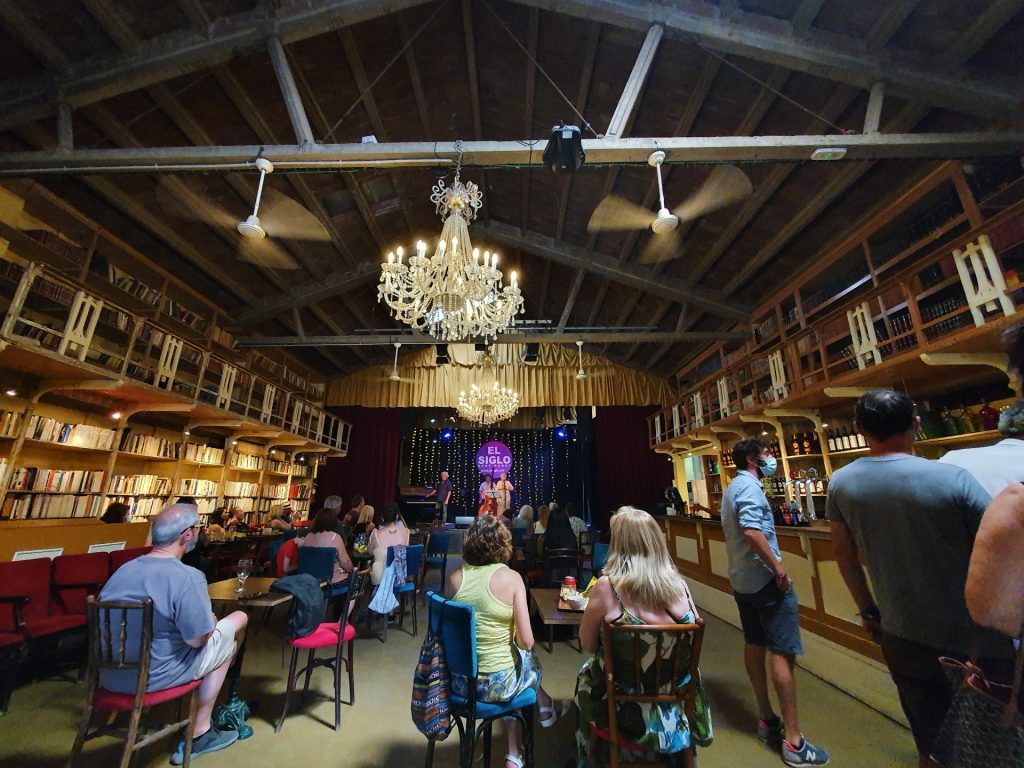 Concert at the El Siglo bookstore, the biggest used bookstore in Spain, August 2021 (Susana Bragatto / Folhapress)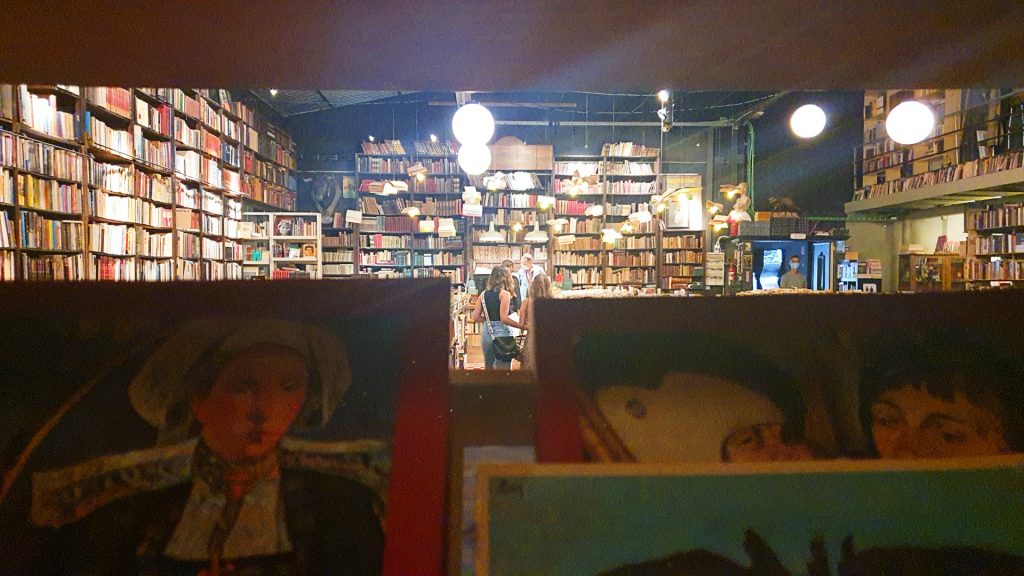 El Siglo bookstore, the biggest used bookstore in Spain, August 2021 (Susana Bragatto / Folhapress)
Not today please. I finish my verdejo, the last of many. Tout peut s'oubliee–eeeeer lalalala.
Under our arm, crowing but still standing, we carry a naughty seventies edition of Leaves of Grass, by Walt Whitman. So as not to leave empty-handed, to finish off the visit with a bow to this beautiful place, to declaim aloud, behind a 2021 surgical mask, in a lighted corner of some room of the tired soul, I celebrate myself, and sing myself… .
(Follow Normalitas on Instagram)