In the world of whiskey, there is a new and highly sought-after release known as Blood Oath Bourbon Pact 9. This limited edition bourbon blend, launched in 2023, has captured the attention of whiskey enthusiasts and collectors alike. Let's explore what makes Blood Oath Bourbon Pact 9 so special, from its craftsmanship to its unique flavors, and why it has gained remarkable popularity.
Blood Oath: Crafting a Tradition
Blood Oath Bourbon Pact 9 is part of a series created by Lux Row Distillers, a well-known distillery known for its commitment to quality and innovation. The Blood Oath series pays tribute to the ancient concept of blood oaths, where people made sacred commitments sealed with their essence. The name and symbolism behind the bourbon evoke feelings of loyalty, honor, and shared experiences.
People's Reaction About Blood Oath Bourbon Pact 9:
Lux Row Distillers' Blood Oath Pact 9 Kentucky Straight Bourbon Whiskey Arrives at Retail in April – American Whiskey News https://t.co/Uyf3dfAiEc pic.twitter.com/ACpt6mg2cY

— Whisk(e)y Chap 🏴󠁧󠁢󠁥󠁮󠁧󠁿🥃 (@whiskeychap) May 10, 2023
Blood Oath Bourbon: A Masterful Blend
What sets Blood Oath Bourbon Pact 9 apart is the skillful blending of three premium bourbons. The master blender meticulously selects and combines these bourbons to create a complex and harmonious flavor profile. The exact details of the blend are a closely guarded secret, but each release in the series offers a unique and memorable tasting experience.
Blood Oath Pact 9: Tasting Notes and Flavor Profile:
The taste of Blood Oath Bourbon Pact 9 may vary slightly between batches, but enthusiasts often describe it as a delightful medley of flavors. You can expect a balance of rich caramel, smooth vanilla, and hints of dried fruits dancing on your palate. The careful blending process ensures a smooth finish, with subtle flavors that reveal themselves with every sip.
The Collector's Appeal: Blood Oath 
One reason behind the popularity of Blood Oath Bourbon Pact 9 is its limited availability. Whiskey enthusiasts and collectors eagerly await each new release, as only a limited number of bottles are produced. The exclusivity and the chance to own a piece of whiskey history contribute to the allure of this bourbon.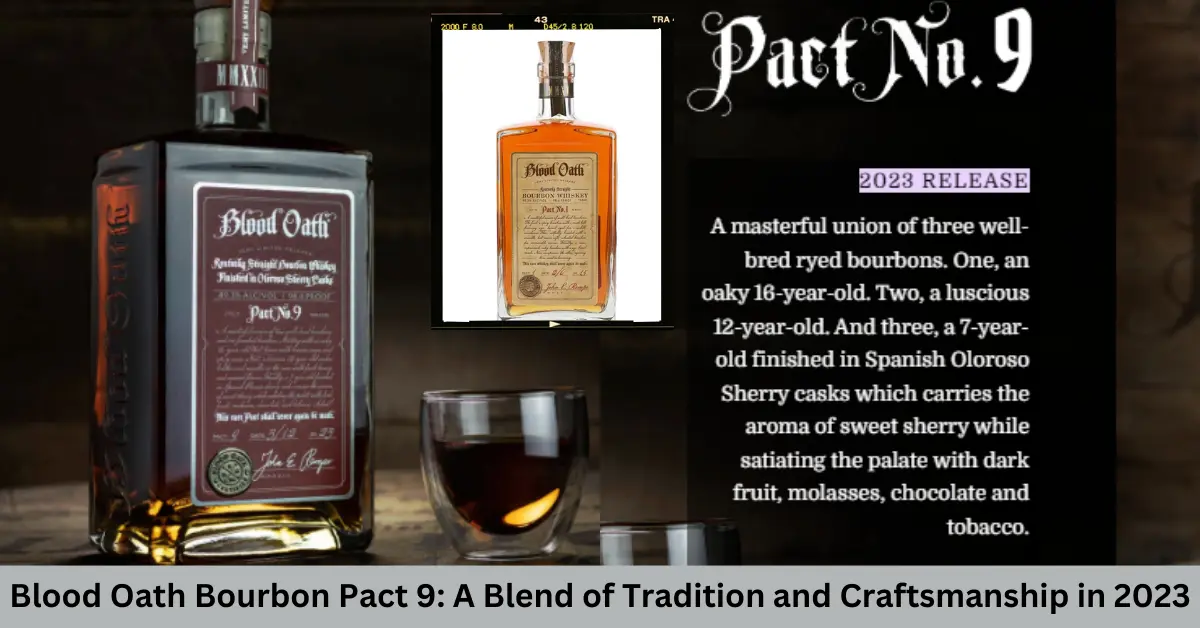 Savoring the Experience: Blood Oath Bourbon Pact 9 In 2023
For whiskey enthusiasts, enjoying a pour of Blood Oath Bourbon Pact 9 is not just about the taste; it's an entire experience to cherish. The distinct bottle design, with its captivating packaging and attention to detail, enhances the overall enjoyment. Sharing a glass of Blood Oath Bourbon Pact 9 with friends or loved ones becomes an opportunity to create lasting memories and appreciate the artistry behind whiskey making.
Final Lines
Blood Oath Bourbon Pact 9 is a testament to the craftsmanship and artistry that defines the world of fine whiskey. Its limited availability, carefully blended flavors, and captivating story make it a highly desirable addition to any whiskey collection. Whether you are a collector or a passionate whiskey enthusiast, experiencing Blood Oath Bourbon Pact 9 takes you on a journey into the realm of exceptional bourbon, where tradition and innovation blend together to create an extraordinary spirit.