South Korean boy band BtoB debuted in 2012 under the management of Cube Entertainment. Members include Seo Eun-kwang, Lee Min-hyuk, Lee Chang-sub, Im Hyun-sik, Peniel Shin, and Yook Sung-jae. The group, which consisted of seven members until Jung Il-hoon's departure in 2020, is now a septet. Fans want to know details relating to BTob separating their ways with Cube Entertainment. here is what we have got for you:
BToB Leave Cube Entertainment
Cube Entertainment and BTOB are no longer working together. The formal announcement from Cube Entertainment announcing the end of BTOB's exclusive contracts was released on November 6th.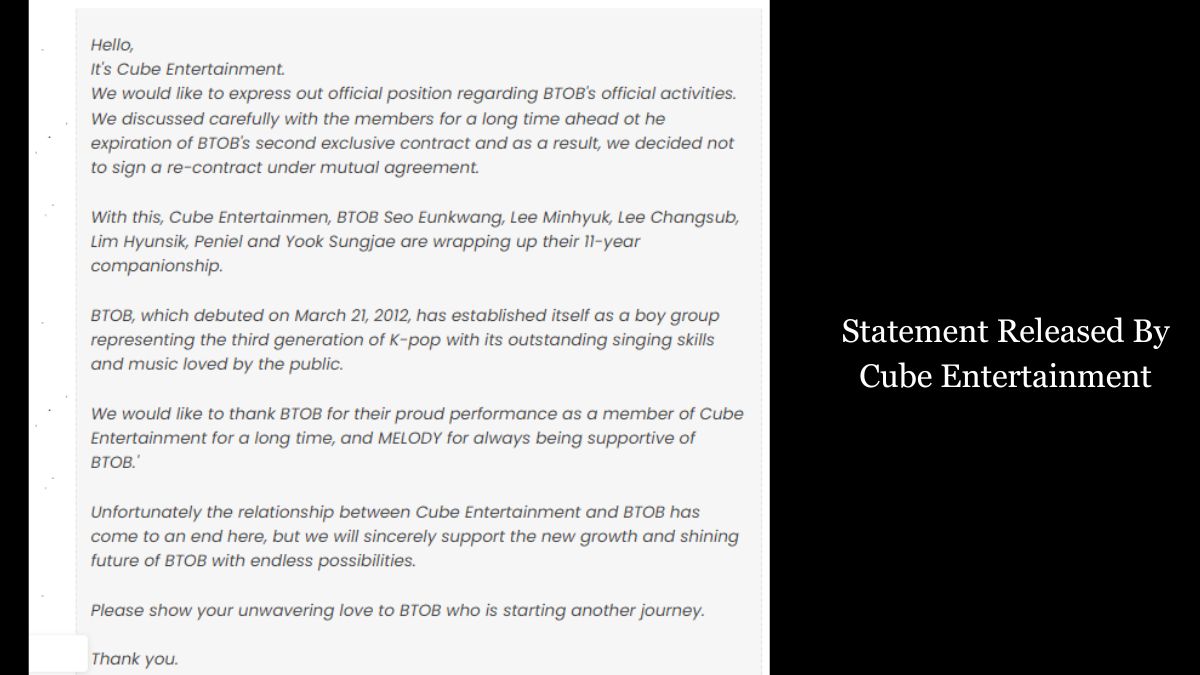 On Wednesday, November 1st, a media site reported that K-pop boy group BTOB is in contract renewal talks with its management company, CUBE Entertainment. There is currently no formal agreement in place. In addition, there have been rumors that some BTOB members are considering leaving the group and joining other agencies.
Check out the below tweet:
[ARTICLE] The status of contract renewal between BTOB and CUBE still remain unclear. According to the insider from music industry, they have yet to reach an agreement for renewal. 5 out of 6 members contract has been expired. CUBE decided to hold openly the discussion with the… https://t.co/6sQP45d5XO pic.twitter.com/rkVCMAvFqM

— BTOB Supports (@BTOBSupports) October 31, 2023
Meanwhile, some reports suggested that even after parting ties with CUBE Entertainment, BTOB is committed to continuing as a group. Furthermore, it has been reported by many media publications that members have contacted several government organizations. Some of them have reportedly offered hefty amounts, such as up to ₩6 billion as a down payment to secure the group on their roster.
CUBE Entertainment published a comment regarding the ongoing topic after the reports surfaced. Since the contracts of some BTOB members have not yet expired, we intend to keep doing our best work until then. Members are looking into their choices and trying to get everything in order, they added.
The agency stressed that the rumoured 6 billion contract price has nothing to do with Cube Entertainment. Therefore, their feedback will be inadequate.
You can also read about BTS Members' renewed contract with HYBE Entertainment:
What Will BTOB Do Next?
After various media sites reported in late August that the members' contracts will expire in September, speculation regarding BTOB's contract renewal gained steam. As of writing, there's still no official decision and indication as to what would happen next to the group.
BTOB, which started in 2012 as a seven-member group under CUBE Entertainment, are renowned for its exceptional vocal talent and variety. In 2018, the group recommitted to working together by renewing their exclusive contracts with CUBE Entertainment. The group has expanded beyond the realm of K-pop music since its debut, appearing in dramas, variety shows, and even musicals.
After Ilhoon's departure in December 2020, just six members were remaining. Seo Eun-Kwang, Lee Min-Hyuk, Lee Chang-Sub, Im Hyun-Sik, Peniel Shin, and Yook Sung-Jae are currently participating members.
The group dropped their twelfth EP, titled Wind and Wash, in May. Fans are still waiting for BTOB to make a choice on renewing their contract, despite the fact that it is unclear what that decision will be. Many of their followers have already expressed their approval of whatever outcome.
For more latest updates you can join us on our Twitter account.