Emilio Sanchez, the young photographer who assisted Chiquis Rivera in mending her wounds and discovering her best and most powerful voice, has received a "yes" from Chiquis Rivera. The love story, which is based on a fairy tale, began its life in the crowded city of Los Angeles, and it has now reached a brand-new and exciting chapter in its progression.
Chiquis Gives Love Another Chance
Chiquis kept her heart after enduring an arduous journey in her previous marriage. However, a talented photographer seven years her junior, Emilio Sanchez, captured her attention at a party, and they have been together ever since.
She went to the mountains in southwestern Utah's Zion National Park with her boyfriend, but she had no idea where the surprise would take her. The singer was surprised when her now-future husband He knelt down to ask her to marry him at a point on the mountain tour. She posted their picture on Instagram with the Caption.
"Emilio, thank you for always taking the time to explain things to me. Thank you, you always give me the last bite," Chiquis wrote on social media while sharing the engagement photo. "Thank you for helping me become a better version of myself. Thank you for doing anything in your power to see me smile. Thank you for not only opening the door for me and putting my seatbelt on. Thank you for giving me the window seat on every trip. Thanks for making an extra effort for us. Thanks for making me feel safe enough to believe in love again (…)."
View this post on Instagram
Best Wishes Came With The Many Comments
People responded quickly when the singer posted about her happiness on social media, including her sisters Jacqie Rivera and Jenicka López. In the same way, famous people like Carolina Ross, Natalia Jimenez, and many more wrote love letters in the magazine. You can see many comments in the picture given below.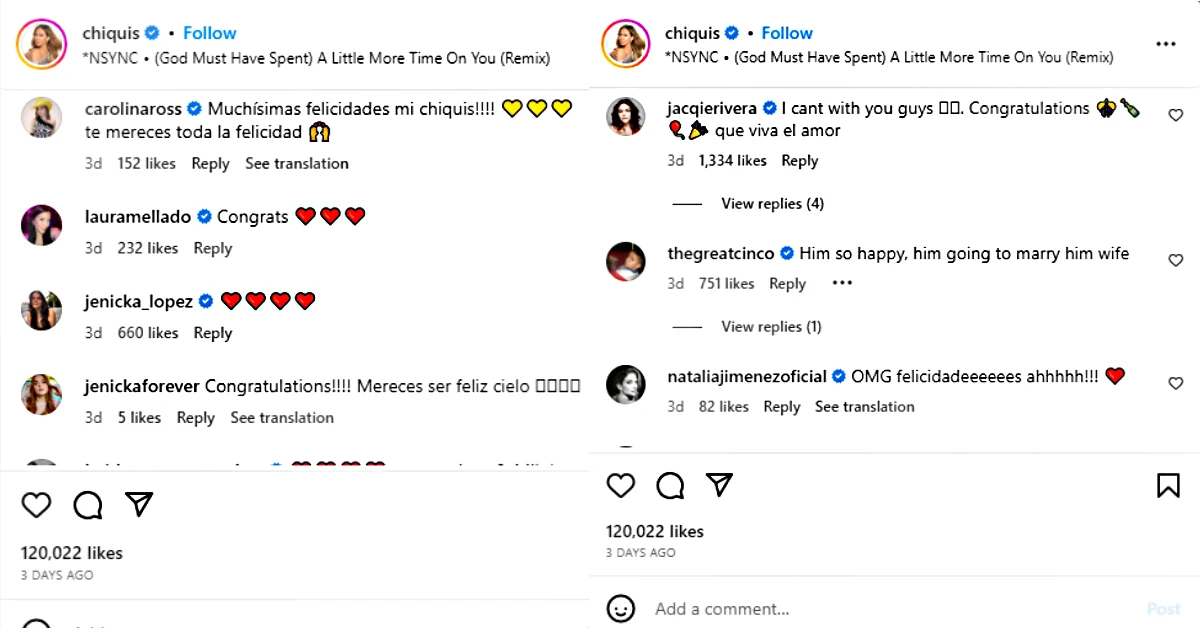 Dive into our captivating collection of articles that delve into the lives of your favourite celebrities and explore the ups and downs of their romantic journeys:
Love Out Of The Blue
Emilio Sanchez is the son of a Mexican father and a Filipino mother. He grew up in California. Early in his career, the photographer used his camera to record some of the most amazing moments in the employment of artists like Becky G. Sanchez and Chiquis met because of Becky G. In March 2021, the singer invited them both to her birthday party. The rest is history.
Chiquis said she had just split up with her husband, Lorenzo Méndez. Sanchez made her feel something, even though she wasn't looking for love. The two people got along so well that the photographer went with her to her house that night.
Don't pass up the chance to delve into a world of knowledge and stay informed on topics that are important to you. Please make a note of our website, Pabaon.com, and start exploring right away!