Netflix Ad Upfronts 2023: Building a Business That Will Last Forever. Netflix stock went up after the company said that nearly 5 million customers are on the ad-supported plan and that more than 25% of new subscribers chose this plan.
When programmers held upfronts, they brought gifts for marketers. Most of these gifts were improvements to how ads were bought or targeted. As a reaction to the increased focus on programmatic buying, Netflix, Disney, and Warner Bros. Discovery (WBD) all said that they could better target ads for streaming.
The news that almost 5 million people had signed up for Netflix's ad-supported plan in the first six months and that more than 25% of new signups are on the ad-supported tier made Netflix's stock go up 9.2% on Thursday.
At Netflix's first-ever upfronts event, held online on Wednesday, the company said that it had gained nearly 5 million monthly active users worldwide since its launch in 12 countries, including the U.S., in early November 2022.
Discover the best articles to read for today:
About 80% of subscribers on the ad plan watch is on TV, and the company says that the typical age of ad-tier customers is 34. Until now, Netflix hasn't given much information about how its first steps into the advertising business are going.
The 5 million number and the relatively strong 25%+ take rate have excited investors. "We are just getting started," Peter Naylor, Netflix's vice president of global advertising sales, said at Wednesday's virtual upfront. You may also refer to the tweets given below for more:
Netflix Upfronts are today!

What are you hoping to see announced or renewed? pic.twitter.com/UbsWuoV0EF

— What's on Netflix (@whatonnetflix) May 17, 2023
Upfronts have always been about the enormous scale of linear. But, the sales pitches of #YouTube and #Netflix to marketers and advertisers was much more about valuable niche audiences and engagement, despite their enormous scale https://t.co/uPQzDP5Abv

— Andrew A. Rosen (@aagave) May 22, 2023
Netflix announced the TV shows and movies coming out this fall in a broadcast-style reveal. These include the sixth and final season of "The Crown," Mike Flanagan's "Fall of the House of Usher," "Squid Game: The Challenge," and Season 5 of the hit reality show "Love Is Blind."
It also said that "Ginny & Georgia" would be back for Seasons 3 and 4, and "Virgin River" would be back for Season 6. There was no mention of the current WGA writer's strike during the presentation, which was moved from New York to be streamed only because of the strike.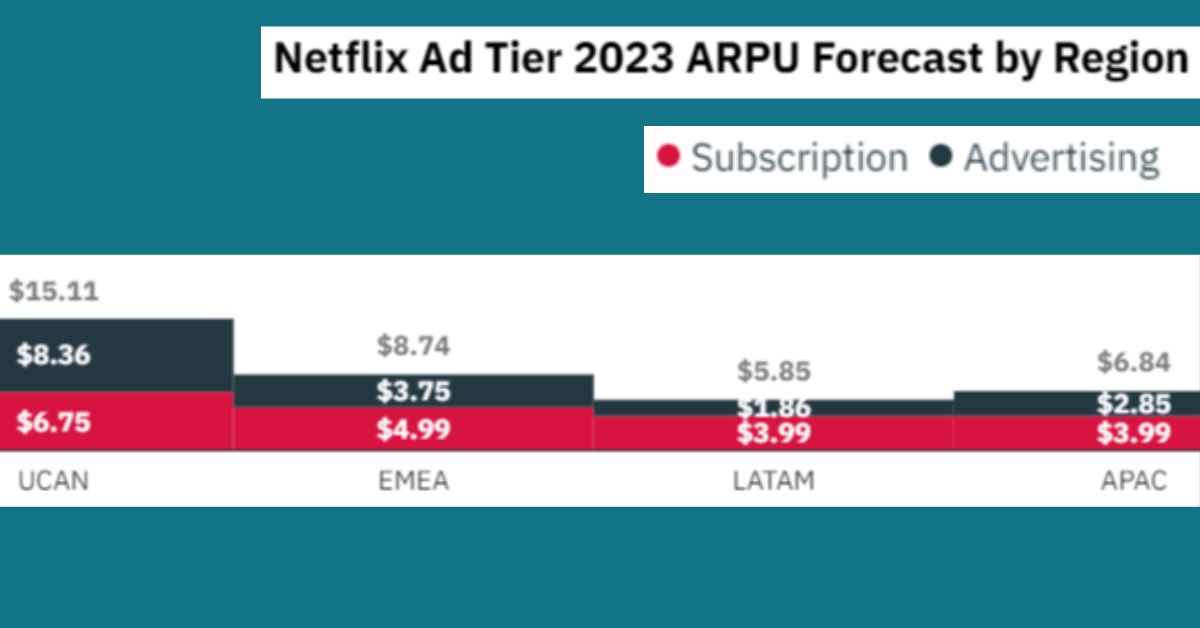 For the first three months of 2023, Netflix said that its ad-supported plan in the U.S. made more money on average per member than its $15.49-per-month plan. Wedbush Securities analyst Michael Pachter says that ad income per user was more than $8.50/month, and there's even more room for growth if ads could be better targeted and their frequency and length could be changed.
During its upfront, Netflix also showed Nielsen numbers that showed how many different kinds of shows it has. According to a tracking company, the streamer has had the No. 1 streaming show for 15 of the 16 weeks in 2023 and the No. 1 streaming movie for 14 of those 16 weeks.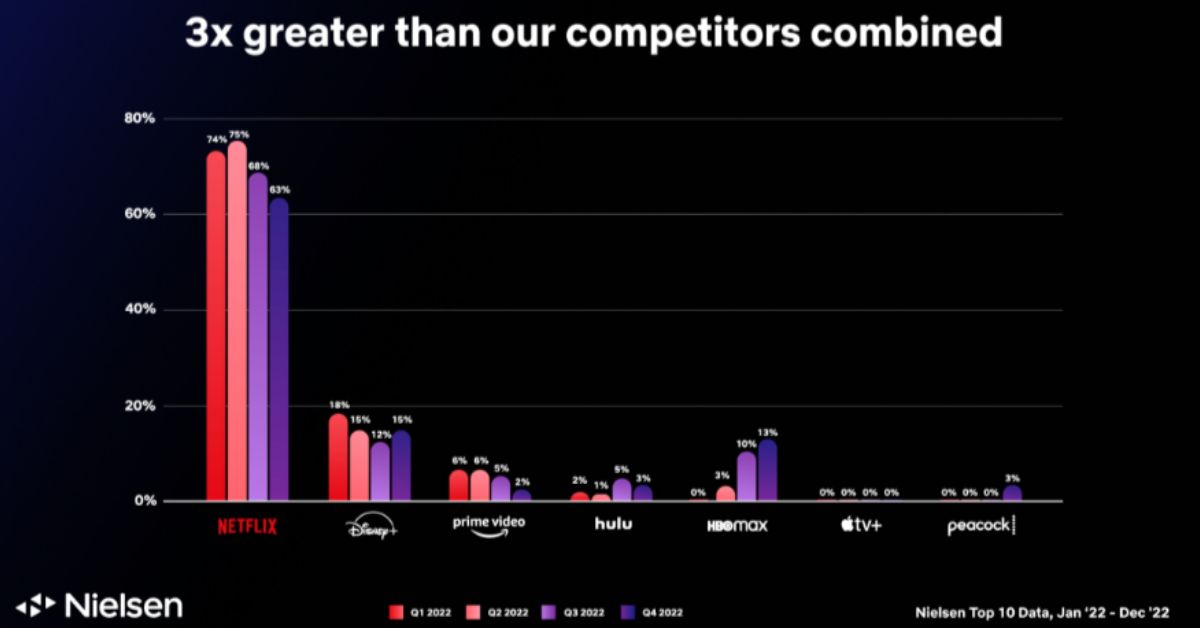 Source: Netflix
Ted Sarandos, co-CEO of Netflix, also talked about a new type of ad that would be like "a 30-minute commercial" that "plays out over several days" and follows users as they watch different shows on Netflix. He said at the beginning:
"This isn't going to happen overnight, and maybe not even next year. It's just one idea."
Investors are still waiting to see the effects of Netflix's wider war on people who share passwords. Netflix said it would start a wider rollout of its paid password-sharing program in Q1. Still, it has now moved that date to Q2 so that it can include the U.S. After a certain amount of time; the company plans to start stopping devices that try to get into a Netflix account without paying.
Here are a few articles which may be considered worth reading:
Netflix thinks that over 100 million families illegally share account access, which could bring in a lot of money for the company. Greg Peters, the company's co-CEO, has said that the company has seen a "cancel reaction" in countries where it has started charging for sharing and that a wide rollout is likely to hurt user growth in Q2.
But Netflix has also pointed to early results in Canada, where it started selling the "extra member" option in February 2023 for $7.99 (Canadian) per month. So far, the company says that the number of paid members in Canada is more significant than before the start of paid sharing and that the income per subscriber is growing faster in Canada than in the U.S.
Keep checking our Twitter account for any new information as it becomes available.