The one and only John Cena was brought into the DC Studios universe as Peacemaker, surprising all of its fans. Fans at first expressed scepticism about him portraying a character with such versatility. But as soon as he showed up in the role, wearing a bright red costume, the doubt morphed into a loyal fan base.
The Peacemaker season 2 demand increased as season 1 came to a conclusion, surpassing even Peacemaker's pet Eagle, Eagley, and it appears that James Gunn finally heard the fanbase.
James Gunn publicly announced in June that Superman: Legacy will be his first major project and Peacemaker Season 2 would be his next. What's more thrilling is that the Writers Guild of America's five-month strike has come to a conclusion, resuming production of new television programs and motion pictures.
This implies that not only will Peacemaker's script be started, but also that Superman Legacy's script will be completed. If you think I'm just speculating, guys, think again. I have solid evidence to support my assertion.
James Gunn shared a post on Instagram:
View this post on Instagram
A Peacemaker set visitor commented on the above Instagram image by James Gunn with the words "SEASON 2 PLEASE," to which James Gunn replied, "Writing it now." This demonstrates that Peacemaker Season 2 is, in fact, currently in production.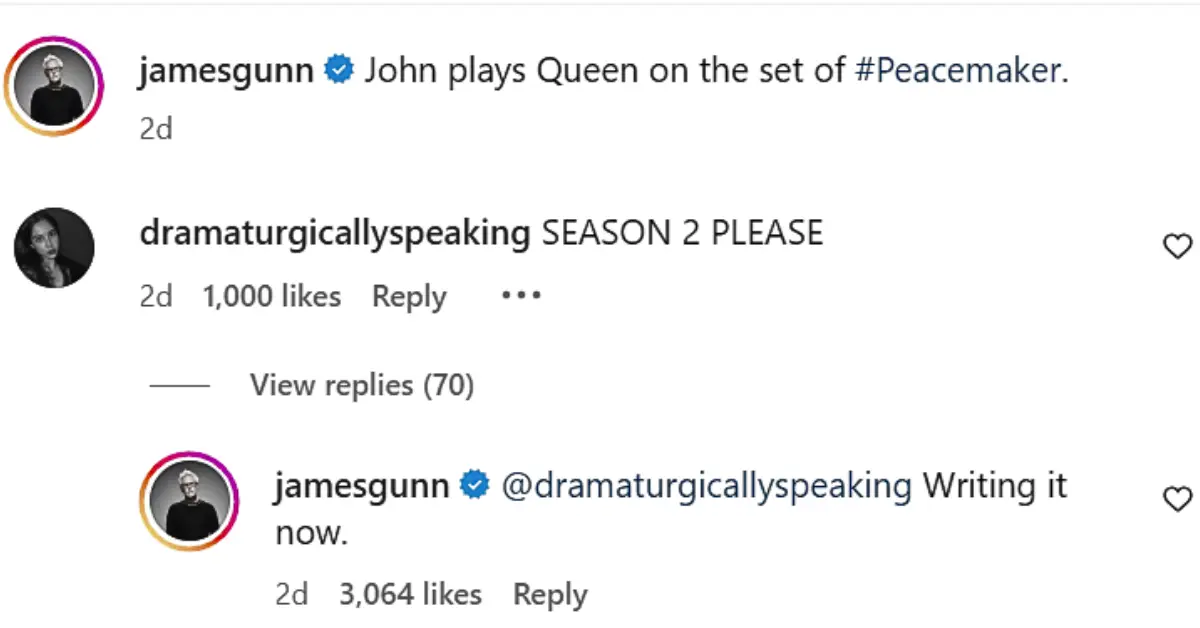 Peacemaker Season 2 Release Date
As of right now, Creature Commandoes, an animated series, will be the following upcoming project for 2024, according to James Gunn's ideas for the new DC Universe. After that, Superman: Legacy will be the first significant film from the lengthy list of forthcoming DC films.
A release date for Peacemaker Season 2 before the end of 2025 or early 2026 is possible based on James Gunn's statement that it will arrive after Superman: Legacy, which is scheduled to arrive on July 11, 2025.
"How is this [Peacemaker Season 2] gonna work, continuity-wise?" asked a fan on Instagram. "Considering season one is smack dab in the DCEU." "You'll see in the show," said James Gunn:
A fan on Instagram: "How is this [Peacemaker Season 2] gonna work, continuity wise? Considering season one is smack dab in the DCEU."

James Gunn: "You'll see in the show!" pic.twitter.com/yJmualyDMT

— Home of DCU (@homeofdcu) October 2, 2023
Peacemaker Season 2 Cast
Despite no official confirmation yet, the majority of the primary cast members of Peacemaker season 2 should return in some manner. The series' main character, the peace-loving anti-hero played by John Cena, will undoubtedly return, and Freddie Stroma's return as Vigilante seems likely given their strong friendship.
Jennifer Holland ought to come back to aid in Harcourt's recovery and perhaps carry on a romance with Smith. Steve Agee might also return because Economos is depicted as being back at Belle Reve jail. If Adebayo decides she is suitable for the lifestyle her mother also follows, Danielle Brooks might even return.
After the conclusion set up Chris witnessing his father's spirit, Auggie from the second season of Peacemaker might also return. Since the first season of Peacemaker dealt with human-possessing butterflies, it would seem natural for the ghost of Auggie Smith to continue to play a part in the series moving forward, whether it be as a representation of Chris' twisted relationship with his cruel father or as a hint of something bigger for the whole of the series.
Due to the Waller show's planned release ahead of Peacemaker season 2, viewers may even witness Viola Davis play a larger part as Amanda Waller before the plot of the second season of the show is revealed.
Check out some other new content we've published:
Peacemaker Season 2 Story
In preparation for season 2, The Peacemaker's season 1 finale does a fantastic job of wrapping up its major plot. Although the Butterflies were vanquished, what happens next is likely to be influenced by the events that followed.
Adebayo makes public the dark secrets of Task Force X and ARGUS, establishing that the Butterflies were present and that Peacemaker was falsely accused of knowing about them beforehand.
She even identifies Amanda Waller (Viola Davis), her mother, as the plan's primary planner. Season 2 has just been announced to take place after Waller (via Small Screen), so depending on what happens in Waller, Peacemaker may not deal with as much of the fallout of this tragedy.