Since its release in April 2023, the new season of Demon Slayer has created quite a stir. Demon Slayer Season 3 is looking to broaden its audience reach with its English dub debut. After the first two seasons and the canon movie, fans' expectations for the third season skyrocketed.
This franchise's third season covers the "Swordsmith Village Arc," in which Tanjiro, Mitsuri, and Tokito face off against two Upper Moons, Hantengu and Gyokko. This season also reveals Genya and Tokito's heartbreaking backstories. Let's find out where to stream your favorite Demon Slayer season 3 anime.
Where Can I Watch English Dubbed Season 3 Of Demon Slayer?
The third season of Demon Slayer is available to stream on Crunchyroll. New episodes will air weekly. The English dub follows the release of the series' primary subtitled version, which debuted on Crunchyroll's streaming services in 9th April. Season 3 covers the manga's Swordsmith Village Arc.
Demon Slayer has Tweeted about season 3 being available to Stream from April 9th on Crunchyroll.
WIELD YOUR BLADE AGAINST THE DEMONS DRAWING NEAR ⚔️

Demon Slayer: Kimetsu no Yaiba Swordsmith Village Arc starts streaming on @Crunchyroll starting April 9th! pic.twitter.com/ns88IYj8wJ

— Demon Slayer: Kimetsu no Yaiba (English) (@DemonSlayerUSA) March 31, 2023
The release date for the English dub of Season 3 of Demon Slayer was set for Sunday, May 28, 2023. It's a weekly anime that airs on Sundays. The episode will be available for streaming in multiple time zones as soon as it is broadcast in Japan.
You can find your time zone below:
8:15 am PDT
11:15 am EDT
12:15 pm Brazil
3:15 pm UK
4:15 pm Central European Summer Time
8:45 pm India Standard Time
2:15 am Australia
4:15 am New Zealand
The Cast Of The Season 3 English Dub Of Demon Slayer
One thing that makes watching Demon Slayer such a joy is the show's incredible cast of voice actors. The actors, each with specialized skills, collaborate in bringing the characters to life through their performances. Below are all the voiceover cast members from Demon Slayer season 3.
Included in the English dub cast are:
Zach Aguilar as Tanjiro Kamado

Abby Trott as Nezuko Kamado

Aleks Le as Zenitsu Agatsuma

Bryce Papenbrook as Inosuke Hashibira

Griffin Burns as Muichiro Tokito

Kira Buckland as Mitsuri Kanroji

Zeno Robinson as Genya

Christopher Corey Smith as Hantengu

Brent Mukai as Gyokko
While most of the cast remains the same as in previous seasons, Zeno Robinson, Christopher Corey Smith, and Brent Mukai will join the English dub cast for season 3.
What's The Storyline Of Demon Slayer 3?
Following the arc in the Entertainment District, Tanjiro and his friends make their way to the Swordsmith Village to have Tanjiro's sword repaired. Nevertheless, the village should not be considered safe.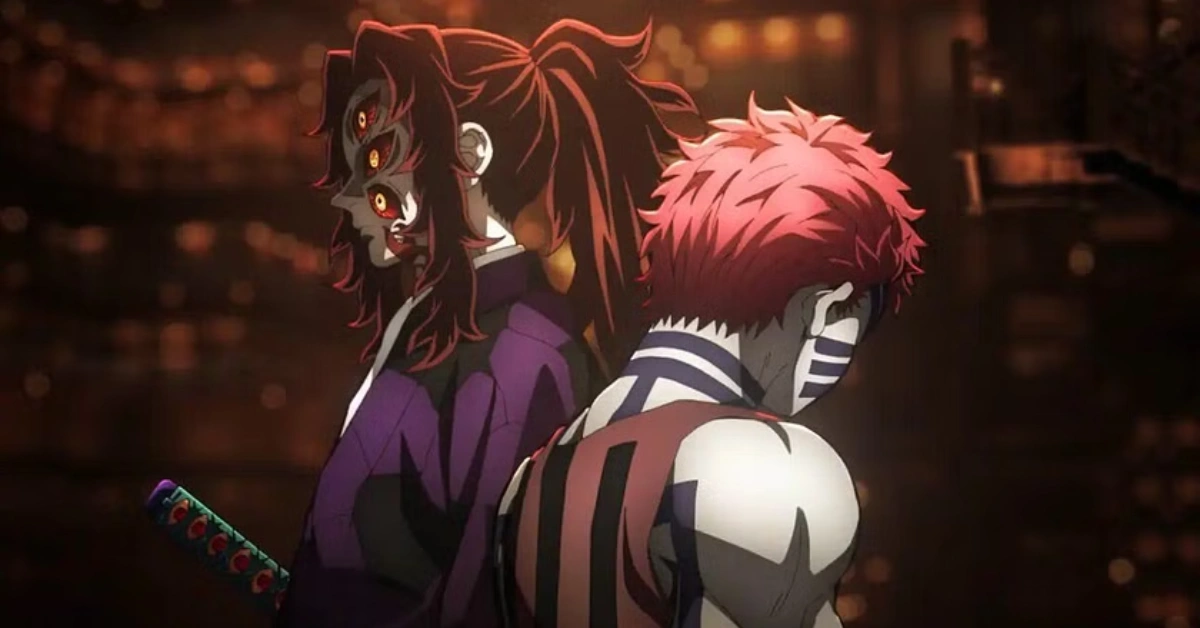 Demons have their sights set on it, and Tanjiro and his companions will need to put up a fight to defend it. They will go up against some of the most powerful demons they have ever faced, such as Gyokko and Hantengu.
The story that takes place during the Swordsmith Village Arc is both exciting and eventful. It is suspenseful, thrilling, and funny all at the same time. It will, without a doubt, be enjoyable for readers of the Demon Slayer series.
If you Want to take a deeper look at the Storyline and The Number of episodes of Demon Slayer season 3, you can consider the following posts:
Does Demon Slayer Season 3 Have Any Trailer?
Fans of Demon Slayer, rejoice! The official trailer for Demon Slayer: Kimetsu no Yaiba Season 3 is available on Crunchyroll, giving us a glimpse into the thrilling continuation of this epic anime series. The trailer features intense action sequences, stunning animation, and the introduction of new characters, all of which will undoubtedly captivate audiences once more. Demon Slayer: Kimetsu no Yaiba has become a global phenomenon, with breathtaking visuals and a gripping storyline.
Conclusion: Exciting news for Demon Slayer fans! The highly anticipated Demon Slayer: Kimetsu no Yaiba Season 3 has already been released. With intense action, stunning animation, and captivating new characters, this season continues the epic journey of Tanjiro and his friends. Stream it now on Crunchyroll and experience the thrilling storyline that has made Demon Slayer a global phenomenon.
Bookmark our website, pabaon.com, to stay current on the latest news, releases, and exclusive content. Don't miss out on the latest entertainment, technology, and other information.