Are you ready to delve into an episode filled with laughter and light-hearted antics? What happens when BTS's Jungkook makes an appearance on the whimsical show, Suchwita? Will his charismatic humor leave the audience in stitches? Dive into this playful encounter that showcases Jungkook's jovial side, bound to brighten your day!
BTS Jungkook's Suchwita Episode: Uncut Version Coming?
Suga recently had BTS's Jungkook on his variety show, Suchwita. Suga showed himself to be a respectful and thoughtful hyung throughout the video, and he went out of his way to set up a karaoke machine for the group's prized maknae.
When not performing, Jungkook may often be found singing in his room. He routinely treats ARMYs to virtual performances through his many late-night Weverse lives. Jungkook will again come on Suga's show Suchwita on November 4. Here is a following tweet related to it:
Jungkook will be the guest again for Episode 21 of Suchwita, out November 4!https://t.co/VH1n21PV08 pic.twitter.com/N3WHTTVG38

— BTS Charts & Translations (@charts_k) October 31, 2023
In a funny admission, he said that a neighbor had complained about the noise he was making with his frequent spontaneous karaoke performances at home. During his episode of Suchwita, Jungkook sang "The Road to Me" by Sung Si Kyung and "That That" by PSY and Suga. Additionally, a 15-minute video of his Suchwita karaoke session with more legendary songs was uploaded.
Jungkook Loops ⁷ Also Posted the Information Jungkook Will Be on Suchwita Again:
JUNGKOOK WILL BE ON SUCHWITA AGAIN!😭🫂 pic.twitter.com/MbnT9AWyDt

— jungkook loops ⁷ (@jeonjkloops) October 31, 2023
Netizens were quick to note that Jisoo was featured prominently in BLACKPINK's "Pink Venom" music video when Suga first brought it to their attention. Many fans of BTS and BLACKPINK eagerly watched as the video premiered live to see if Jungkook would indeed be covering the hit BLACKPINK song.
omg pink venom jisoo pic.twitter.com/RIUtTjnI7s

— mia (@GEMIKOOS) July 29, 2023
Whether or not Jungkook actually sang the song, his version was deleted from the episode and the karaoke video. Despite this, fans reacted to the hypothetical by pleading with the Suchwita editing team to "not gatekeep" the video if Jungkook ever sang "Pink Venom."
Fans were disappointed that Jungkook didn't do a cover of "Pink Venom" during the Suchwita episode, but future Weverse live karaoke performances might bring anything.
Hope7 wrote on Twitter about when the news spreads on the web:
JUNGKOOK ON SUCHWITA BE LIKE pic.twitter.com/aWEFiRhpLY

— hope⁷ (@winnttaebear) October 31, 2023
Another posted:
no one:
jungkook on suchwita: 😉✌️ pic.twitter.com/i1aOBvyqc2

— golden⋆ (@archiveforJK) October 31, 2023
We also talked about some more information about his upcoming projects, which are mentioned below:
Best Moments of BTS' Jung Kook and SUGA on Suchwita Ep. 15
1. BTS Maknae's Workout Routine and Drink of Choice Revealed
Jung Kook brought his preferred highball to Suchwita after repeatedly raving about them on Weverse Live. The basic recipe calls for whisky and carbonated water, with ice and a lemon slice for garnish.
The Euphoria singer was already in good spirits before he even took a taste of his highball. He did push-ups on the chair's arms. When questioned by a surprised SUGA, he replied that he was preventing muscular loss in his arms.
You can watch Jung Kook and SUGA on Suchwita Ep. 15:
2. BTS SUGA predicts Seven will hit #1 on the Billboard Hot 100
SUGA admitted that he had not heard the song when they talked about Seven after the food and drink problem was solved. Right away, Jung Kook told the production team to play it. Yoon-gi, aka "Min"stradamus, said Seven would be number one on the Billboard Hot 100 chart before he even heard the whole song. When fans found out about this, the phrase "What Yoongi wants, Yoongi gets" became a trend on Twitter (now X).
WHAT YOONGI WANTS, YOONGI GETS

——a very important thread @BTS_twt pic.twitter.com/nc9sM0Ug5R

— D- DAY🥢🎸 (@mapplesuga) May 7, 2020
The youngest member of BTS even showed Suchwita the point dance for the song, which was like giving SUGA a private performance. It was Jung Kook's turn to talk about his plans for the rest of the year. He said that he was going to put out another song soon after Seven and then a mini-album in November 2023.
3. Jin Talks About His Solo Career
SUGA discussed his World Tour and the challenges he faced performing solo while sick. Making a clear segway into Jung Kook's 2022 World Cup solo performance of Dreamers, he asked the singer about his experience. He said he was glad he got there early so he could learn the dancer's routine and incorporate some of his own ideas into the show.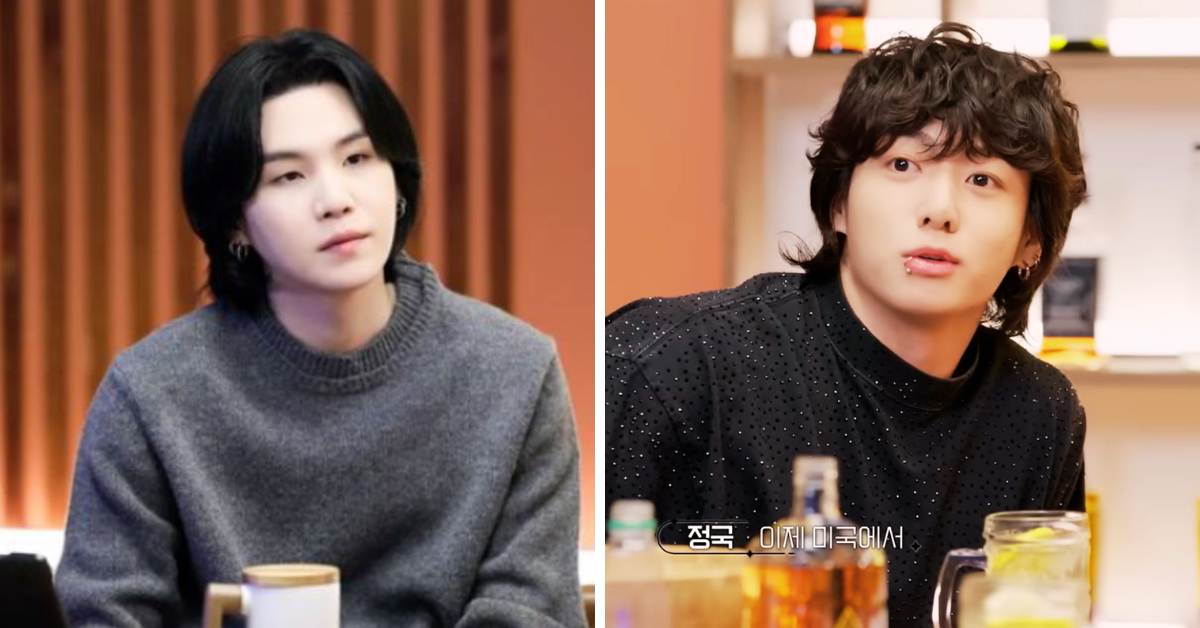 The two also discussed how difficult it was to command an audience by themselves compared to when they were a septet. Naturally, the topic turned to Jin, who reportedly admitted to them that he missed acting.
4. SUGA asking Jung Kook to show his abs for 10 million views
SUGA talked about the younger singer's Calvin Klein photoshoot without much thought while he was talking about how important it is for artists to work out. The "My Time" artist showed that he still had abs by peeking out from under his shirt. The Daechwita singer asked him right away to show them and said he hoped the video would get 10 million views.
What a surprise! Jung Kook quickly lifted his shirt and showed off his very toned stomach. Then he made a joke that the lights should be turned down for a better effect. SUGA then asked him if he needed a touchup.
5. Jung Kook and SUGA Team Up for Daechwita and That That Cover!
After months of making fun of him with the dance moves to "That That," Jung Kook finally did the PSY song with SUGA on "Suchwita." While singing together, it seemed like they had been in BTS for ten years together.
The Begin singer also sang Agust D's "Daechwita" but changed the chorus to "Suchwita," just like he did in a video earlier. After this, he did a noraebang session, which was turned into a separate 15-minute movie by the production team.