Kim Seok-jin, stage name Jin, was born on December 4, 1992, and is a member of the South Korean boy band BTS. Three of Jin and BTS's collaborative solo singles have made it onto South Korea's Gaon Digital Chart since they were released in 2016 (with "Awake"), 2018 (with "Epiphany"), and 2020 (with "Moon"), respectively.
The digital single "Tonight" was published by Jin in 2019 and marked his debut as a solo artist. The single "The Astronaut" was released in October 2022, marking his official debut as a solo artist.
In addition to her singing career, Jin has also hosted several South Korean music shows between 2016 and 2018. In 2018, he and his bandmates were honored by the President of South Korea with the fifth-class Hwagwan Order of Cultural Merit for their contributions to Korean culture.
How did Kim Seokjin, globally acknowledged as 2023's Best Artist, sweep the hearts of millions along with the most prestigious awards? What exceptional strides did he make to ensure a trophy haul that's nothing short of legendary this year? Dive into the riveting journey of artistry and acclaim that now surrounds Seokjin, the face of excellence in today's music scene.
Soekjin Best Artist Men 2023
As reported by IdolChamp on October 13th, 2023, BTS member Jin received the award for Best Artist (Men) at the 2023 K-STAR Most Valuable Artist (MVA) Awards. On November 2nd, the actual trophy that would be presented to the winners was revealed. Fans were overjoyed at hear of Jin's victory.
Meanwhile, K-STAR MVA recognizes musicians in two distinct categories: Best Artist, for the performer with the widest international fanbase, and New Star, for the rising star who will take K-pop into the future.
Omg Seokjin won Best Artist (Men) at the 2023 K-Star Most Valuable Artist Award

CONGRATULATIONS JIN
JIN MOST VALUABLE ARTIST pic.twitter.com/F0lLiBOo5U

— Carolyne🌱⁷ ʲᵏ ʰᵒᵖᵉ ᵛᵉʳ (ꪜ)🃏🧑‍🚀💙🪞🦋🥢🪐🎬✌️ (@mhereonlyforbts) November 2, 2023
Meanwhile, ARMYs (BTS fans) are celebrating the idol's major accomplishment on social media by trending Jin under many phrases and tags, such as "CONGRATULATIONS JIN" and "JIN MOST VALUABLE ARTIST." The idol, who has enrolled in the South Korean military, has received widespread praise from his adoring public.
#JIN won Best Artist [ Men ] at the 2023 K-Star Most Valuable Artist Awards🥂🥳

CONGRATULATIONS JIN
JIN MOST VALUABLE ARTIST pic.twitter.com/zVCbMdzSJl

— JIN UPDATES (@seokjin_updates) November 2, 2023
How Did Fans React to BTS Jin's 2023 K-Star MVA Awards Win?
From September 26 through October 11, the K-STAR MVA Awards voting event was hosted jointly by the popular idol fandom app IDOLCHAMP and the prominent Hallyu media portal Kstyle in Japan. This cooperative endeavor between Korea and Japan was the first of its kind, focused on celebrating K-pop musicians that have significant brand effect and have garnered admirers abroad.
Awards were given out in four different groups at the 2023 K-STAR MVAs, with Jin taking home the trophy for Best Artist (Men) and NiziU taking home the hardware for Best Artist (Women). On the women's side, XG was named New Star, while N.SSign was named New Star (Men).
The 30-year-old BTS member has a history of winning trophies for his physical prowess. The following awards were bestowed upon BTS' Jin in 2022:
TTA Best Artist of K-Drama OST World
TMA Individual Choice Award
TTA Best Artist of K-Drama OST – Mexico
Melon Weekly Popularity Award – Nov Week 2
Melon Weekly Popularity Award – Nov Week 3
M Countdown
Award for Best African Artist at the 30th Annual Hanteo Music Awards
The Moon singer is about to get the physical prize for his latest achievement, and ARMYs are currently inundating social media with messages of support. Below are some X (formerly Twitter) responses.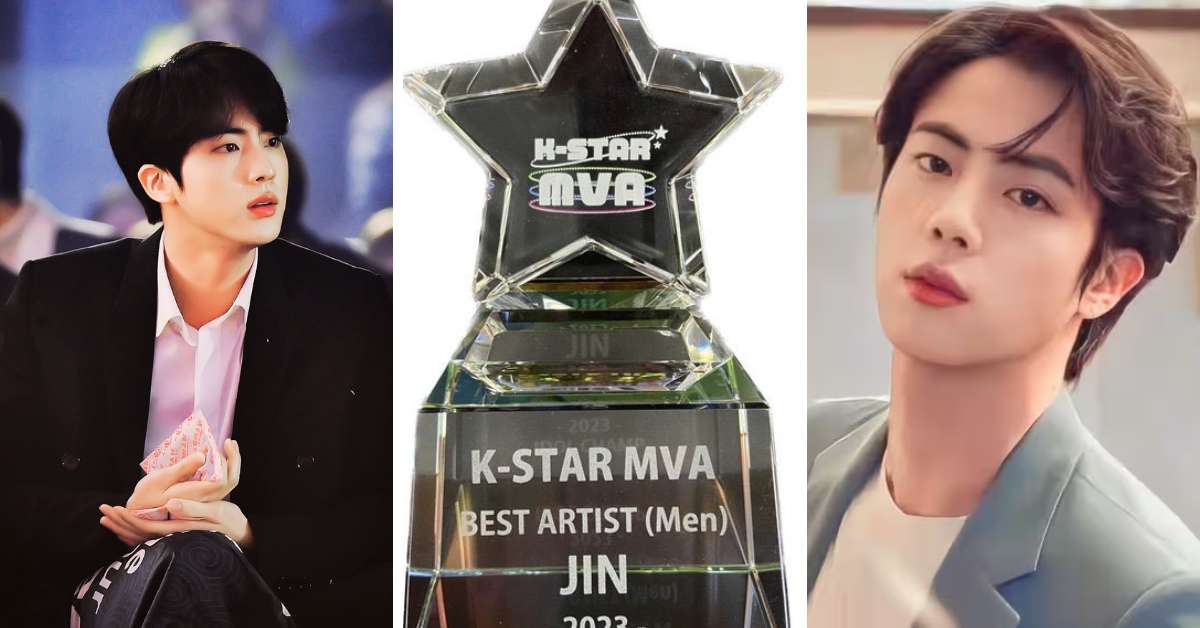 Furthermore, voting for the K-STAR MVA Awards was carried out on the IDOLCHAMP app, and winners were selected based on 100% in-app fan voting. Winners will be rewarded with special trophies, exclusive interviews, and feature articles on Kstyle.
You may also check out some of the other data we've collected from awards shows:
Who Won the Best Artist (Female) Award?
The Japanese girl group NiziU, created by JYP Entertainment and Sony Music Entertainment Japan, is becoming very popular worldwide, not just in Japan and South Korea. They were formed through a joint audition project between Japan and Korea called "Nizi Project" and made their debut in Japan in 2020. They quickly became famous and respected thanks to their success.
They've had some big hit songs in Japan, and fans really love them. This popularity helped them reach big achievements really fast.
Early in their career, they set a record by getting 100 million streams in just 15 weeks on the Japan Hot 100 chart with their song 'Make You Happy.' Their debut single, 'Step And A Step' became the second best-selling debut single by a female artist in Japan, showing they had secured a good position in the music industry.
They also set a record by performing on a top-rated annual music show in Japan – the "71st NHK Kōhaku Uta Gassen" faster than any artist before.
You can see below a list of K-STAR MVA Award Winner list:
Special trophy completed🌟 🏆K-STAR MVA🏆 It will be delivered to the winning artist.
\スペシャルトロフィーが完成🌟/

🏆K-STAR MVA🏆
受賞アーティストにお届け予定です✨

🎊1位アーティスト#JIN(#BTS)#NiziU#nSSign#XG#KSTAR #MVA #IDOLCHAMP @idolchamp_jp pic.twitter.com/Luk5CeSK6S

— Kstyle (@Kstyle_news) November 2, 2023
Now, they are preparing to debut in Korea on October 30 with a single album called "Press Play". They've already impressed international fans, winning a huge portion of votes in a fan vote for "BEST ARTIST (Women)" in the "K-STAR MVA". This shows how strong their brand is and how much influence they have globally.
NiziU is also going to perform at an international live event called "Neighbors Con" at K Arena Yokohama, Kanagawa, on November 25, 2023. This event aims to promote entertainment exchange between neighboring countries, and NiziU will be performing during the "DAY LIVE" segment.
Who Won the NEXT STAR (Men) Award?
n.SSign is a new music group that quickly became popular and won first place in a "NEXT STAR (Men)" category vote, showing their popularity thanks to their devoted fans.
n.SSign was formed through a reality show called "Stars Awakening", which was a joint project between South Korea's Channel A and Japan's ABEMA, and now they are managed by n.CH Entertainment. Initially planned as a 7-member group, they added 3 more members and became a permanent group. They gained a good amount of fans in Japan even before their official debut through a tour there.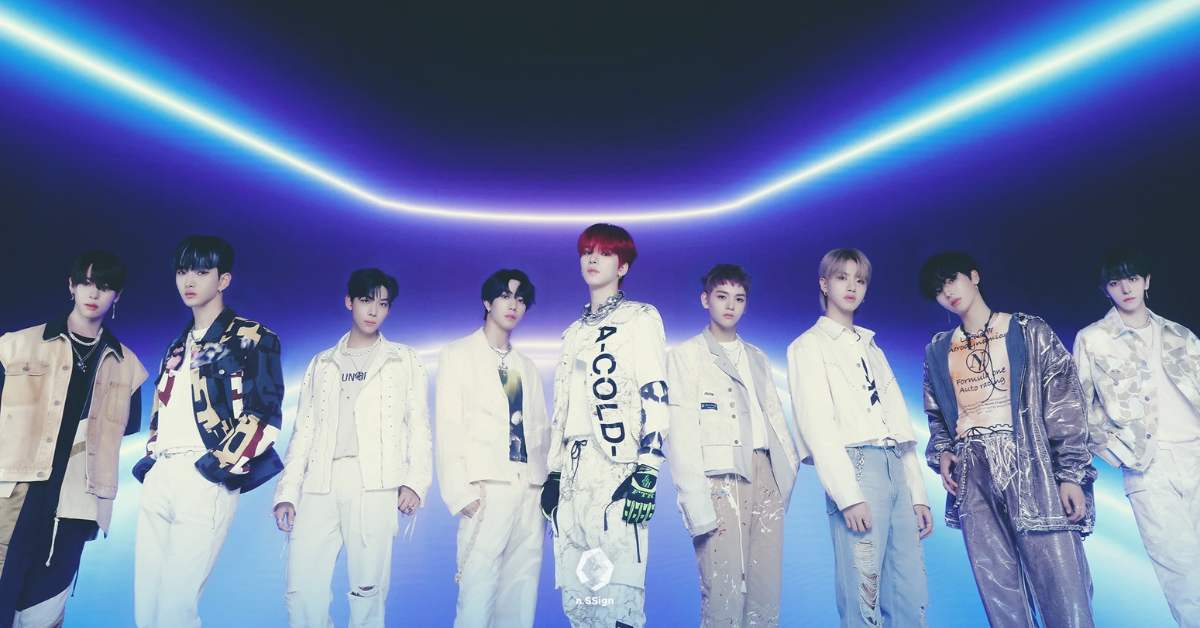 According to n.CH Entertainment's executive director Chang HyunJin, n.SSign wants to follow the path of groups like ATEEZ, who built a strong international fanbase before getting big recognition in their home country. So, n.SSign is working on gaining popularity not just in South Korea but globally too.
They officially debuted on August 9, 2023, with their first mini-album, "Birth Of Cosmo", which got over 210,000 pre-orders and topped Japan's Oricon music chart a day after its release. They sold over 207,000 copies in the first week, which is a big deal for a new group. n.SSign is planning its 1st big concert in Tokyo on November 11th and 12th and will release its debut Japanese single, 'New Star', on November 29. They also hope to perform in the US by the end of next year, aiming to be recognized as a global group.
Who Won the NEXT STAR (Women) Award?
XG is a popular music group that has fans all around the world. They got the most votes in the "NEXT STAR (Women)" category of a music vote, which isn't surprising due to their global popularity. Even though they are a Japanese girl group based in South Korea, they sing in English, showing how global they are.
They are signed to a music label called XGALX, which is part of another company called Avex. In a short time, they've created a unique music style that's catchy and original. Each member of XG is very talented, and their label promotes their individual strengths, making the group even more popular.
They have a strong fanbase in Japan and also benefit from the support of the K-Pop industry, they sing in English, of which sets them up for big success in music.
Earlier in 2023, XG achieved something big by getting on a prestigious US radio chart, becoming the first female Japanese artist and group to do so. They also performed at several big events in Japan and the US. They've already achieved a lot, and it's exciting to think about what they'll do next.