Zion Williamson has kept his love life private. Now that he will be a dad, many people want to know who he's dating. Even though he has been hurt a lot in the NBA, Zion Williamson seems to be keeping himself busy in his personal life.
The news came out later that the New Orleans Pelican and his girlfriend would have their first child. After that news, though, something else made that good news less happy. After all this news came out, many people wanted to know who Zion was dating and why he got so much backlash and debate.
Who Is Zion Williamson Dating?
Zion usually keeps his relationships out of the public eye. He doesn't post personal things on Instagram. Akheema, who is dating him, just shared a gender reveal. It was a public statement that the two were going out together and having a baby.
Akheema has hinted that she and Zion used to date, but this is the first time Zion has shown up on her Instagram. After hearing that they would have a baby together, however, many people wanted to know more about Akheema.
She makes videos, like shopping hauls and recipes for comfort food, on her social media accounts and YouTube channel. She has also worked as a real estate agent and put up pictures of the homes she sold at different times.
View this post on Instagram
Akheema is also a mother but doesn't post much about her son, so it's hard to tell how old he is. Now, Akheema is expecting her second child with Zion. The baby girl is coming in November, according to reports. It's unclear who Akheema's son's father is, but she's been dating Zion for at least a few months.
Here you can  also check more celebrities' love life:
Zion Has Been Accused Of Cheating On Akheema?
Nearly at the same time Zion's relationship with Akheema became public, adult film star Moriah Mills took to Twitter to say that she had s*x with Zion just a week before. Moriah also showed Zion what looks like a Snapchat where he seems to offer to give her the money so she can move to New Orleans, where he lives.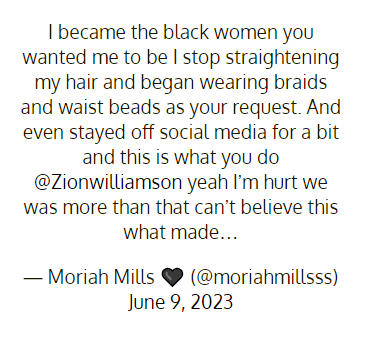 "Better pray I'm not pregnant too because I'm definitely late @Zionwilliamson," Moriah wrote on Twitter. "I was with you last week in New Orleans and you couldn't tell me you had a random that pregnant after all I've done for you @Zionwilliamson."
In answer, Akheema posted her thoughts on her Instagram Stories.
"People like to watch a queens fall from grace. Luck for you b—hes I know how to keep my balance," she wrote.
There is a lot of messy drama in Zion's life right now, and NBA Twitter is in an uproar about it. On top of all that, we don't know precisely when Zion will play his next game for the league.