On October 26, it was shared that Mingyu from the group SEVENTEEN had sudden severe lower back pain. Doctors told him to take a break.
So, Mingyu will skip some upcoming events to focus on getting better. His agency, PLEDIS Entertainment, said he's dealing with serious back pain and needs to rest as his doctor advised.
Even though Mingyu wants to join in on the planned events, his health comes first. So, his schedule will be changed to make sure he gets well. He won't be part of the activities set for the next week, and his healing process will be watched closely.
Seventeen's Mingyu Makes Speedy Recovery From Back Pain
Due to significant lower back pain, the K-pop star missed a number of SEVENTEEN's scheduled appearances and had to go to the hospital. Mingyu, a member of the K-pop boy band SEVENTEEN, had to take a brief sabbatical due to health reasons beginning on October 26.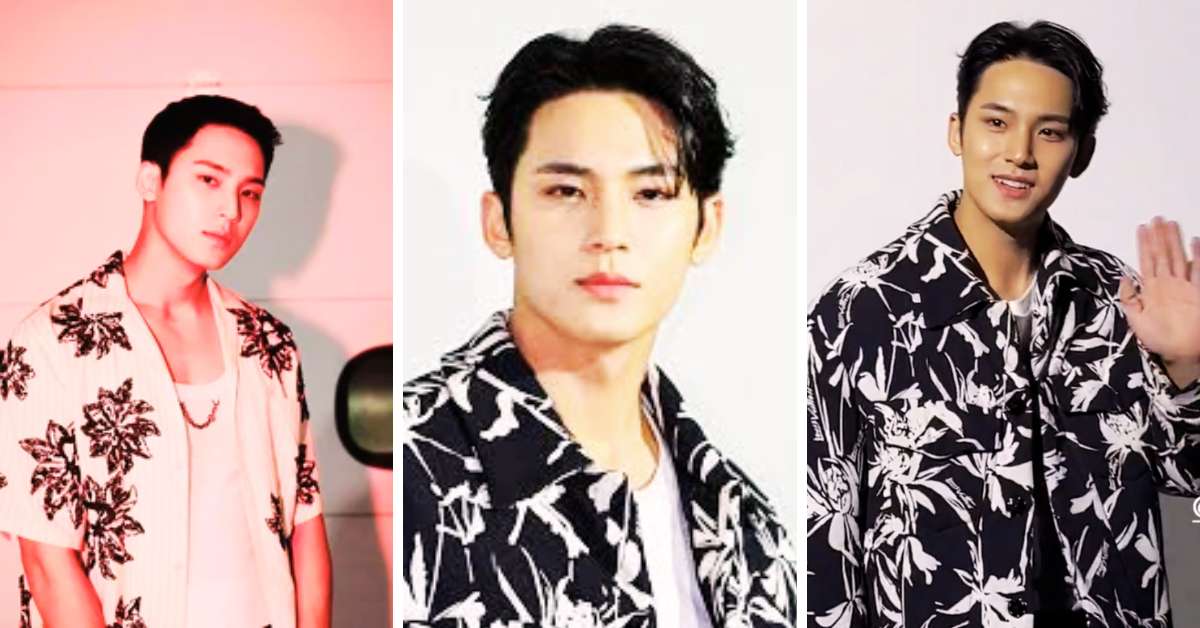 Due to significant lower back pain, the K-pop idol sought medical attention and was told to rest from SEVENTEEN's planned activities, thus he missed a few performances and a fan signing. The news that Mingyu may resume his usual schedule was shared by PLEDIS Entertainment on Tuesday, October 30.
"Following the recommendation from the medical staff, the artist took a period of rest and received necessary treatment, and we are pleased to inform you that he has recovered with surprising speed, and his physical condition has greatly improved," the label wrote, according to a translation from Soompi.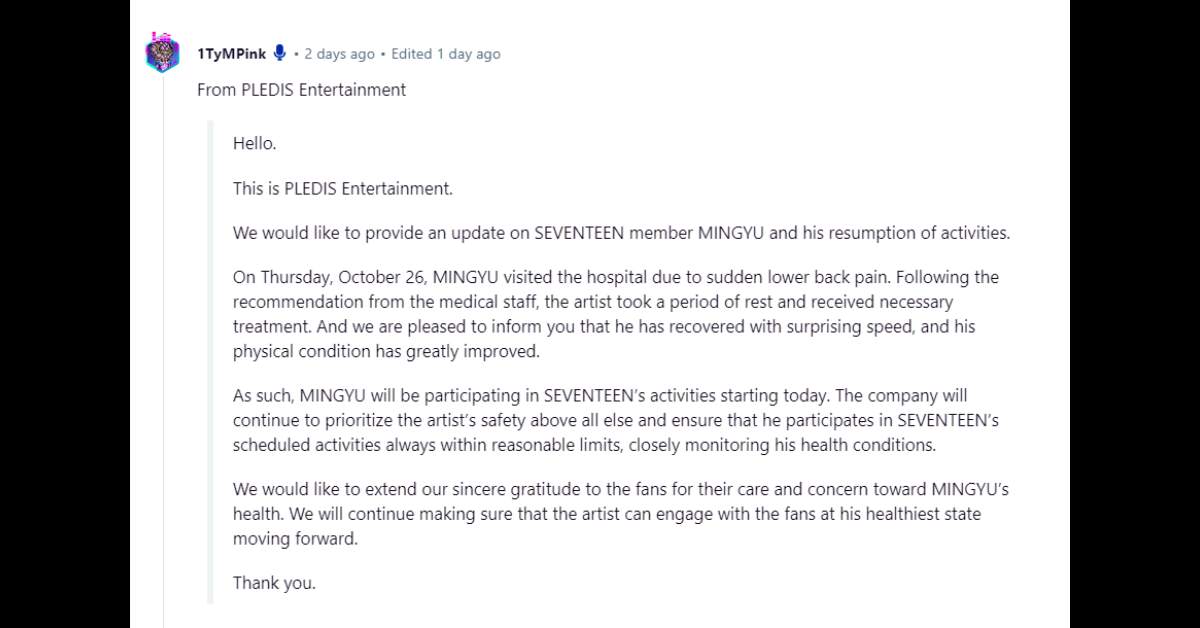 Mingyu immediately started taking part in SEVENTEEN's planned activities when the news broke.
"The company will continue to prioritize the artist's safety above all else and ensure that he participates in SEVENTEEN's scheduled activities always within reasonable limits, closely monitoring his health conditions," PLEDIS Entertainment said.
The agency also expressed gratitude to Mingyu's followers for their concern and assured them that they would continue to be able to communicate with him in his best health. PLEDIS Entertainment revealed on October 19 that S.Coups would miss the majority of SEVENTEEN's comeback promotions so that he could get treatment for a knee injury.
Promotion for SEVENTEEN's eleventh mini album, SEVENTEENTH HEAVEN, which came out on October 23, is now underway.
[#DINO🌟 Weverse]
231029 -20:34 KST-

➸ To say that (Seventeenth Heaven album) reached over 5M copies…🥹
Carats, thankyou so so much, congratulations to us all!!ㅎㅎ
During the first week of promotion, I was so nervous, excited and very happy.

++#디노 #세븐틴 @pledis_17 pic.twitter.com/lEgxurU3cY

— SEVENTEEN Weverse (@SVT_Fancafe) October 29, 2023
Recently, the band made history by being the first K-pop act ever invited to speak at the UNESCO Youth Forum in Paris.
PLEDIS Entertainment's 13-member rookie act SEVENTEEN made their debut in May 2015 with the single "Adore U." Mingyu, S. Coups, Dino, Woozi, Wonwoo, Vernon, Seungkwan, DK, Hoshi, Joshua, The8, Jun, and Jeonghan make up the group's full complement of musicians.
Their subsequent work includes the radio smashes "HOT," "Mansae," "Don't Wanna Cry," and "Aju Nice," among others.