Critics and fans love the raucous high school comedy show "Never Have I Ever," about an Indian-American teen named Devi and her unique coming-of-age story. People like the show because it shows life in a Hindu family in a realistic way and is funny at the same time.
It also shows how different and sometimes challenging high school can be. Season 4, which started on Netflix, ends Devi Vishwakumar's exciting high school years and her habit of making unwise choices.
But fans may wonder what will happen to Devi and her friends when they go to college. Fans will be disappointed to hear that the show will not return for a fifth season since it was always meant to end after four. Still, people can watch Season 4 on Netflix, which brings Devi's story to a satisfactory end.
Netflix's Confirmation of Season 4 as the Final Season
Season 4 of "Never Have I Ever," which is already out on Netflix on June 8, is the end of the story of Devi Vishwakumar's high school years and her never-ending string of bad, impulsive decisions:
🚨 today's the day! 🚨Never Have I Ever S4 is NOW STREAMING only on @Netflix! pic.twitter.com/MygvD492WF

— Never Have I Ever (@neverhaveiever) June 8, 2023
Maitreyi Ramakrishnan is back as Devi, Poorna Jagannathan is back as her mother Nalini, Darren Barnet is back as Paxton, Jaren Lewison is back as Ben, Ramona Young is back as Eleanor, Lee Rodrigues is back as Fabiola, Richa Moorjani is back as Kamala, and tennis star John McEnroe is back as the narrator of Devi's misadventures.
Still, some fans might be interested in what happens after the seniors throw their caps and the newbies move into their dorms. Some people will be sad to hear that the famous show about growing up won't have a Season 5.
Amazing Details You Never Knew About Your Favorite Shows:
Will Never Have I Ever Season 5 Come Out?
The people who make "Never Have I Ever" say that Devi's story was always meant to end after four years. Each season is like a school year since the show occurs in a high school. Also, the players were getting too old for their roles (Darren Barnet was 29 when the show started and is now 32).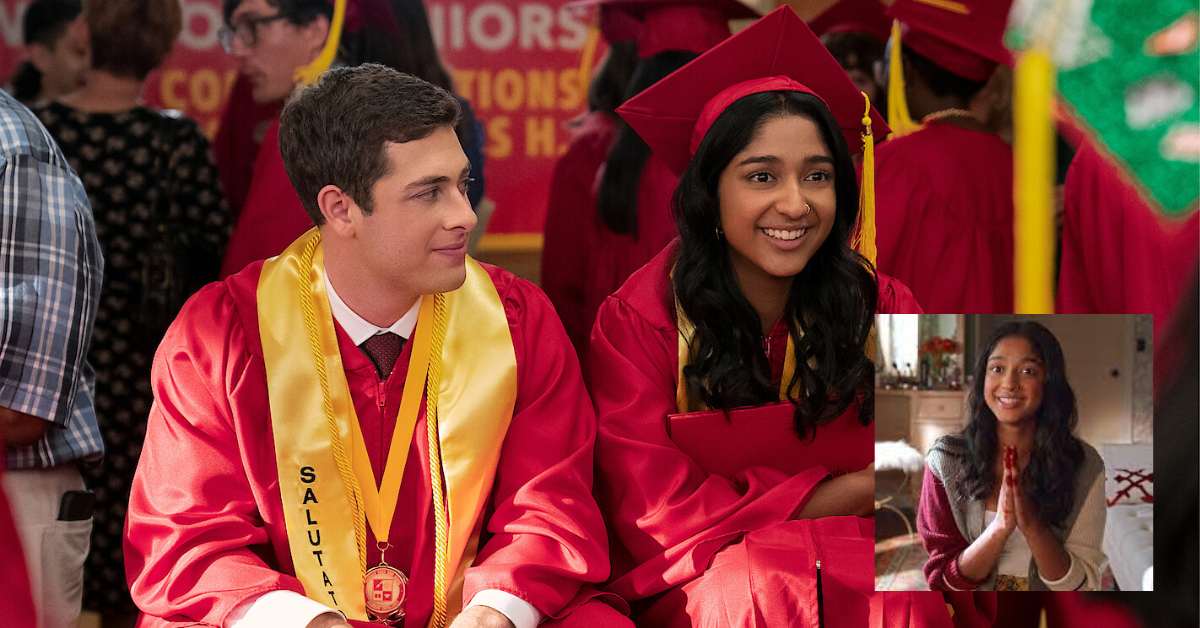 Last year, the show's creator, Mindy Kaling, talked to Entertainment Tonight about why it made sense to end it after four seasons:
"Four seasons for a high school show felt like it made sense. They can't be in high school forever. We've seen those shows. Like, you've been in high school for 12 years. What is going on here? Also, the actors get older, and it starts looking insane that a 34-year-old is playing a 15-year-old."
The Potential For a Spin-Off as Devi's Friends Enter The Next Chapter
A spin-off show might make sense as her three best friends, Fabiola (Lee Rodriguez), Eleanor (Ramona Young), and Aneesa (Megan Suri) start their lives after high school. Kaling has not said that she doesn't want to do a spin-off.
When asked which character she'd like to know more about in a possible spin-off, Kaling said Trent, Paxton's best friend and Eleanor's puppy dog boyfriend, played by Benjamin Norris. Kalin told us:
"Honestly, he's so funny to me. He really makes me laugh, so finding out more about Trent and seeing what his haircare routine is every morning. I would definitely watch that show. I'd definitely like to write that show."
Love Dilemma: Devi's Difficult Choice Among Ben, Paxton, And Ethan
In Season 4, Devi (Maitreyi Ramakrishnan) gets into trouble during her last year of high school. For example, her car gets broken into, she gets lost on a tour of Princeton, and her cab gets into an accident on the way to prom.
Devi will have to choose between her rival-turned-lover Ben Gross (Jaren Lewison), her longtime crush Paxton Hall-Yoshida (Darren Barnet), and the new bad boy Ethan (Michael Cimino) in her love life.